If your handbags are frequently thrown on your table or on the floor, it may be time to try a new approach to store your purses. Whether you have one purse or a hundred, learning how to properly arrange them will extend their life and actually save you money in the long term. Fortunately, handbag storage options are becoming increasingly inventive, and there are a variety of ways to protect your most precious belongings.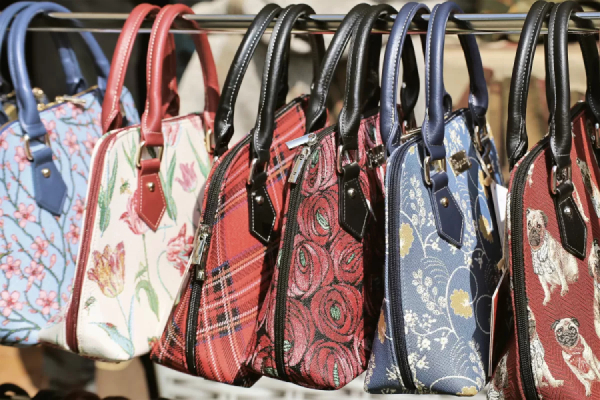 How can I keep my purses safe while they're in storage?
You may have a few alternatives to store your purses, depending on whether you want to keep them safe and hidden away or out on display. Dust bags are a fantastic way to keep dust and pests out of purses that are placed in baskets or containers. Purses on shelves or hanging up in closets could benefit from a thorough wipe down every now and then, and if you really want to safeguard them, clear display cases are available particularly for this reason and are wonderful for showing off your style without jeopardizing the quality of your purse.
But, regardless of how you store them, it's critical to find a strategy to keep your purses in good shape. You'll need something to shove within its interior to keep it from dropping or creasing. Using specific pillow inserts or simply a folded towel might keep your handbags from losing shape over time.
Get 25 ideas from fashion experts on how to store purses and you'll learn how to arrange all of your favorite purses in 12 minutes of reading. Check them out!
1. Use Door Hooks to Hang Purses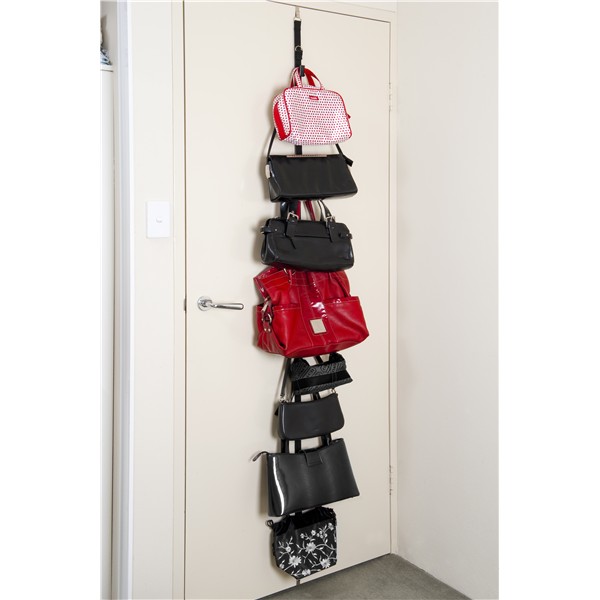 Doors can be useful, especially if you don't have enough space in your closet for purse storage. By employing door hooks, luxury organizer and closet designer Ashley Jones Hatcher demonstrates how simple it is to create more room without the need for cumbersome shelves.
2. Make Use of Over-the-Door Wire Baskets

Lauren of Wellesley & King demonstrates yet another example of how helpful door storage can be. These wire racks extend all the way down the door, providing lots of extra space for storing your favorite purses. This strategy isn't only for accessories in your closet; it can also be applied in a variety of other areas of your home.
3. Use Acrylic Dividers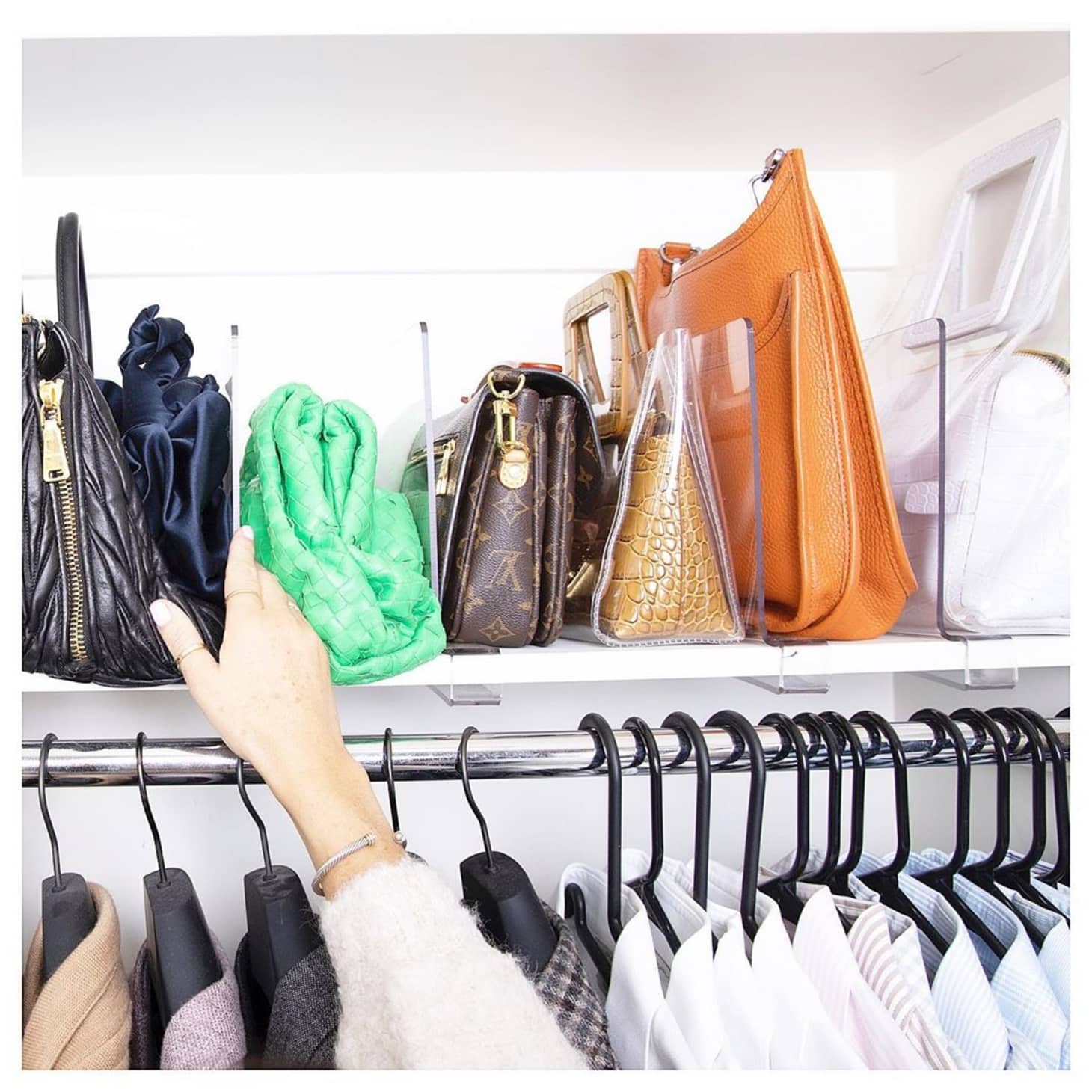 Clear acrylic dividers may keep your purses consistently spaced on a shelf and keep them from being pushed to the back of a closet shelf. Teresa Dinneen's photograph demonstrates how fast and easy these racks can clean up and maintain tidiness.
4. Stack Your Bags Vertically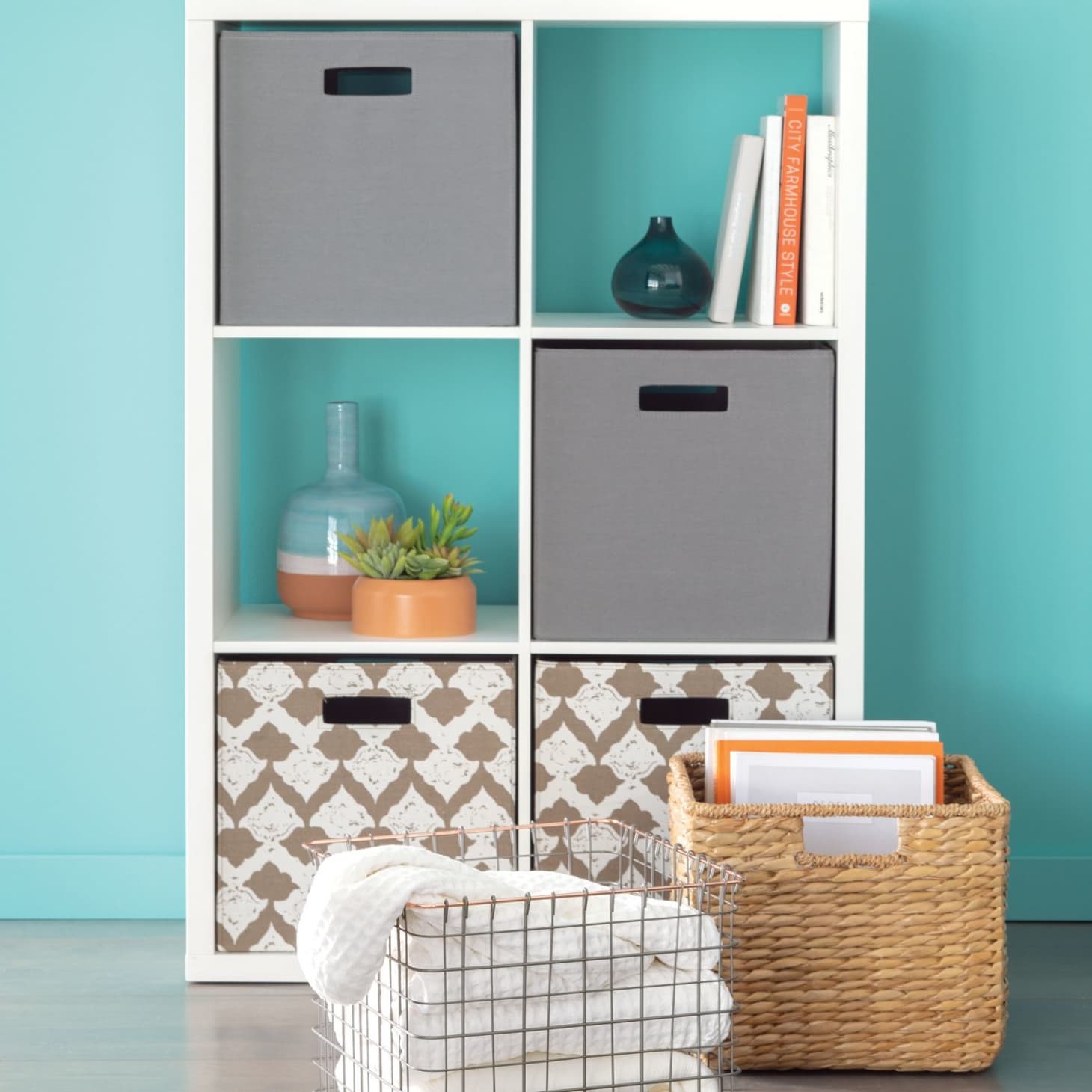 A six-section organizer, such as this one from Target, would suffice for small to medium-sized purses. You'll even be able to store micro clutches and smaller handbags in the same cubby to save room.
5. Utilize Clothing Organizers to Create More Space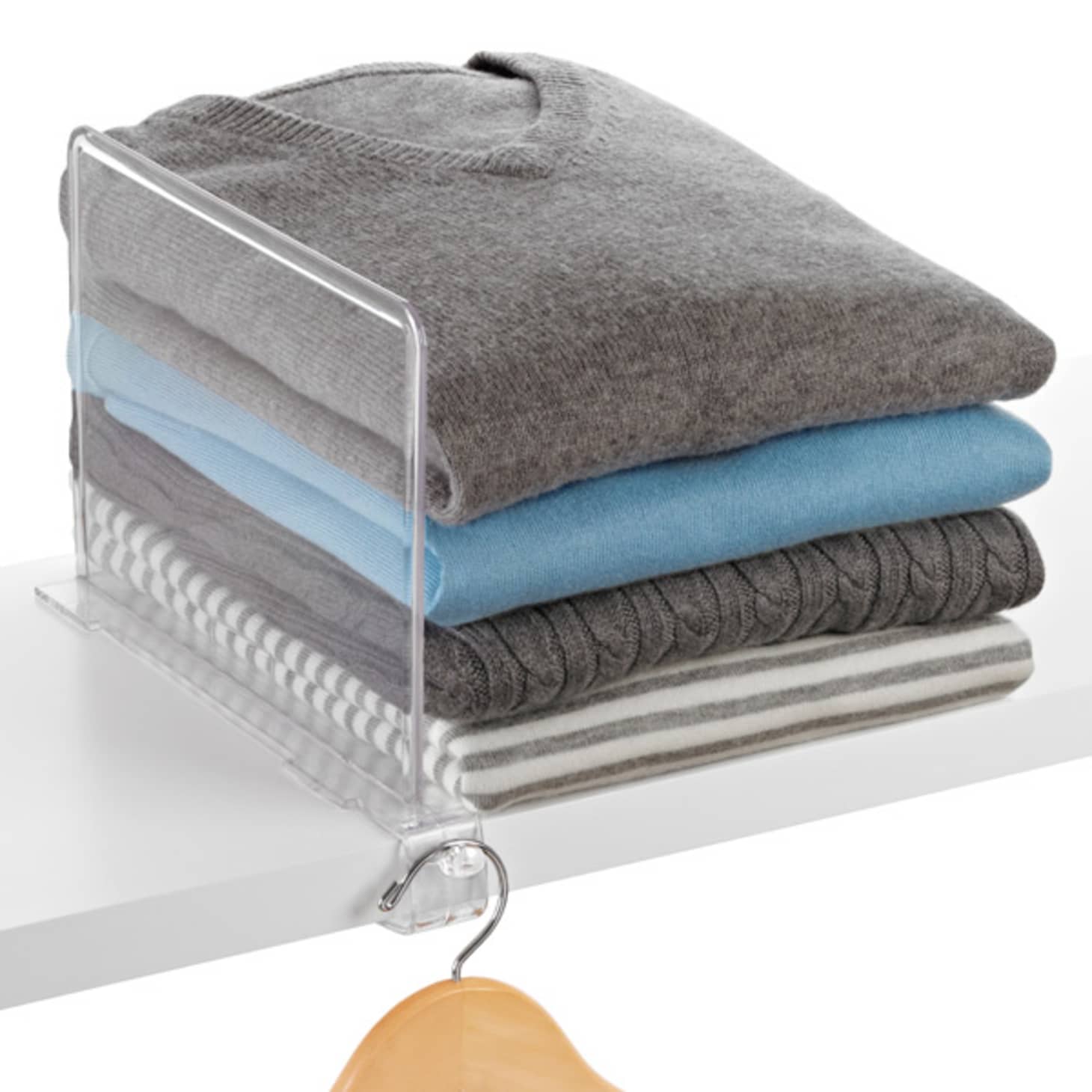 Although the photo shows sweaters, shelf dividers can also be used to store luggage. The Container Store's translucent ones offer a beautiful, basic appearance with a valet hook on the end (that can also hold more purses).
6. Make Use of Purse Storage Bins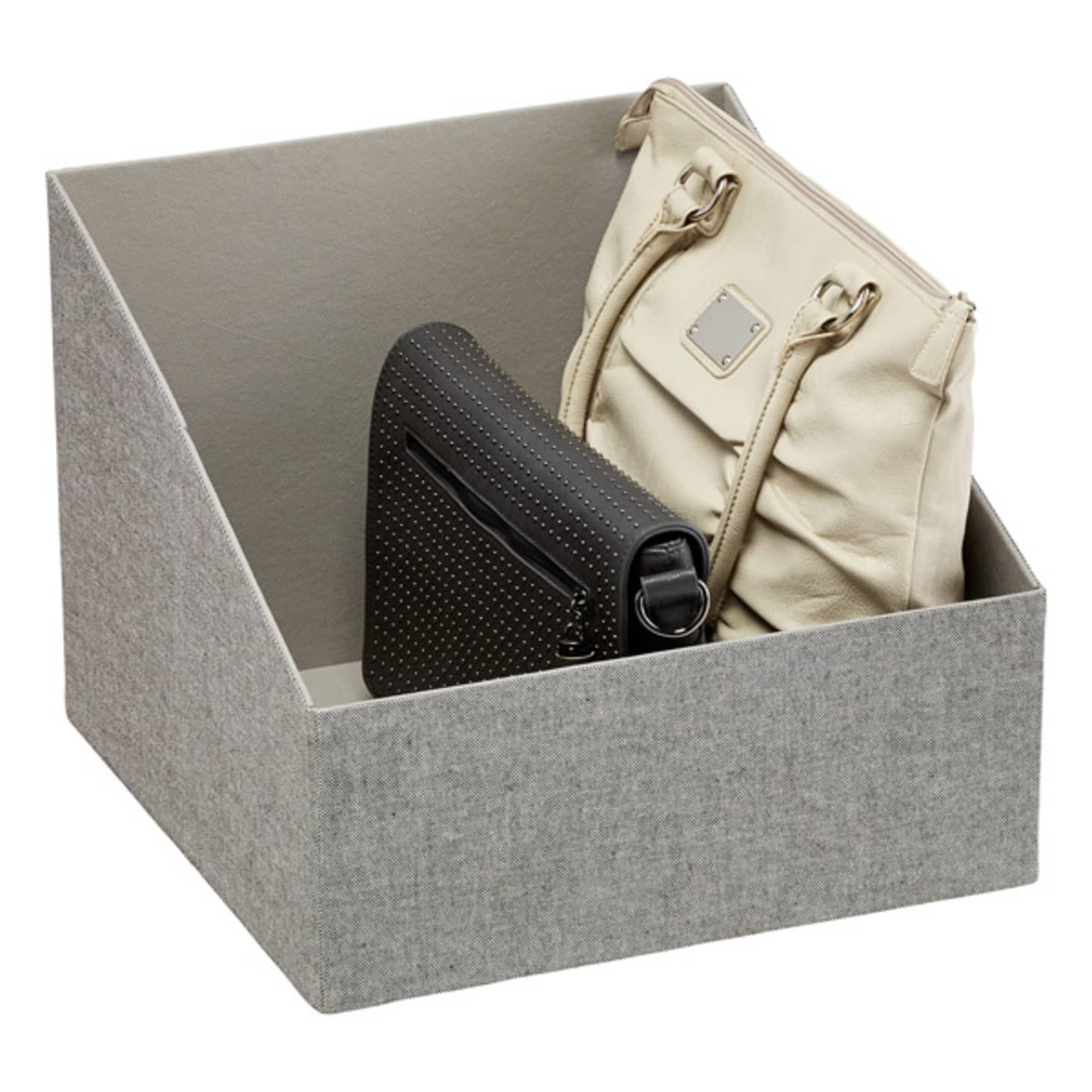 A handbag storage bin, such as this one from The Container Store, is another method to arrange purses and keep them from falling all over each other. It keeps things straight and tidy, and you may use more than one if necessary.
7. Mount a Hanging Bar To The Wall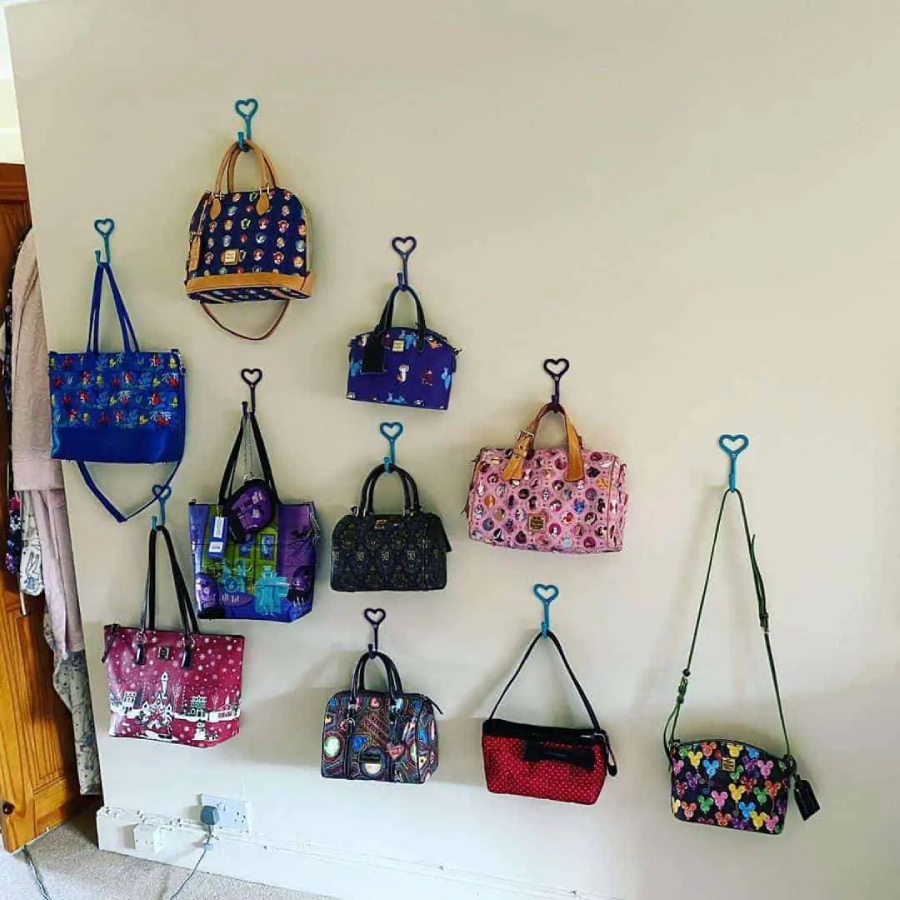 If your closet is simply overflowing, it might be time to search for purse storage outside of the closet. The simplest method? Hooks. The design of this Urban Outfitters seashell hook makes it ideal for holding bag handles, and it also looks nice.
8. Use Hanging Hooks
Installing a full rack allows you to store many bags. Urban Outfitters' sleek mid-century modern-inspired wall hooks can easily do the work.
9. Separate and Conquer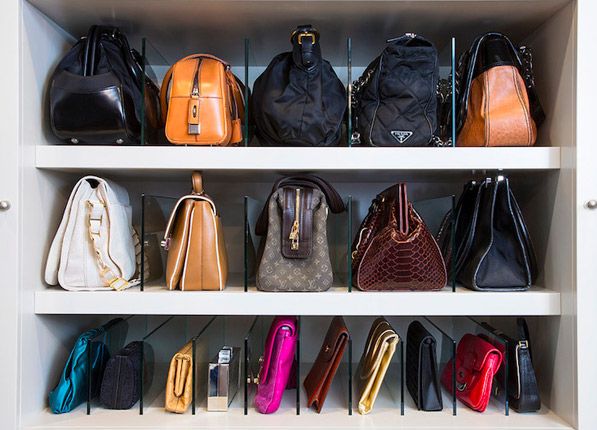 Storing shoes next to purses may seem like an unusual technique of organization, but Sophie from Sophisticated Organization demonstrates how well it works. You may increase storage by enabling different sorts of accessories to share places, such as a divided shelf or hanging organizer, while yet maintaining an exquisitely tidy appearance.
10. Keep Handbags in Baskets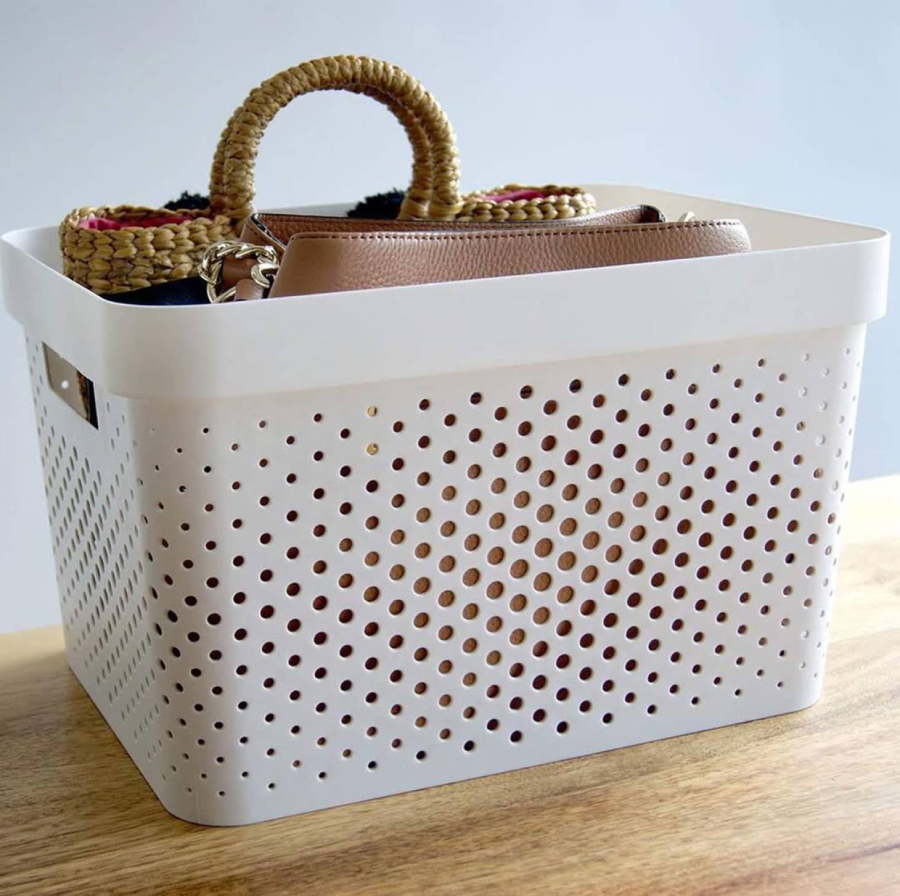 Simple hard plastic storage baskets, like seen here by Emma Greenberg, make it easy to organize your bags and clutches. Bags with no rigid construction can be linked together and hidden out of sight.
11. Dedicate a Wall to Store Handbags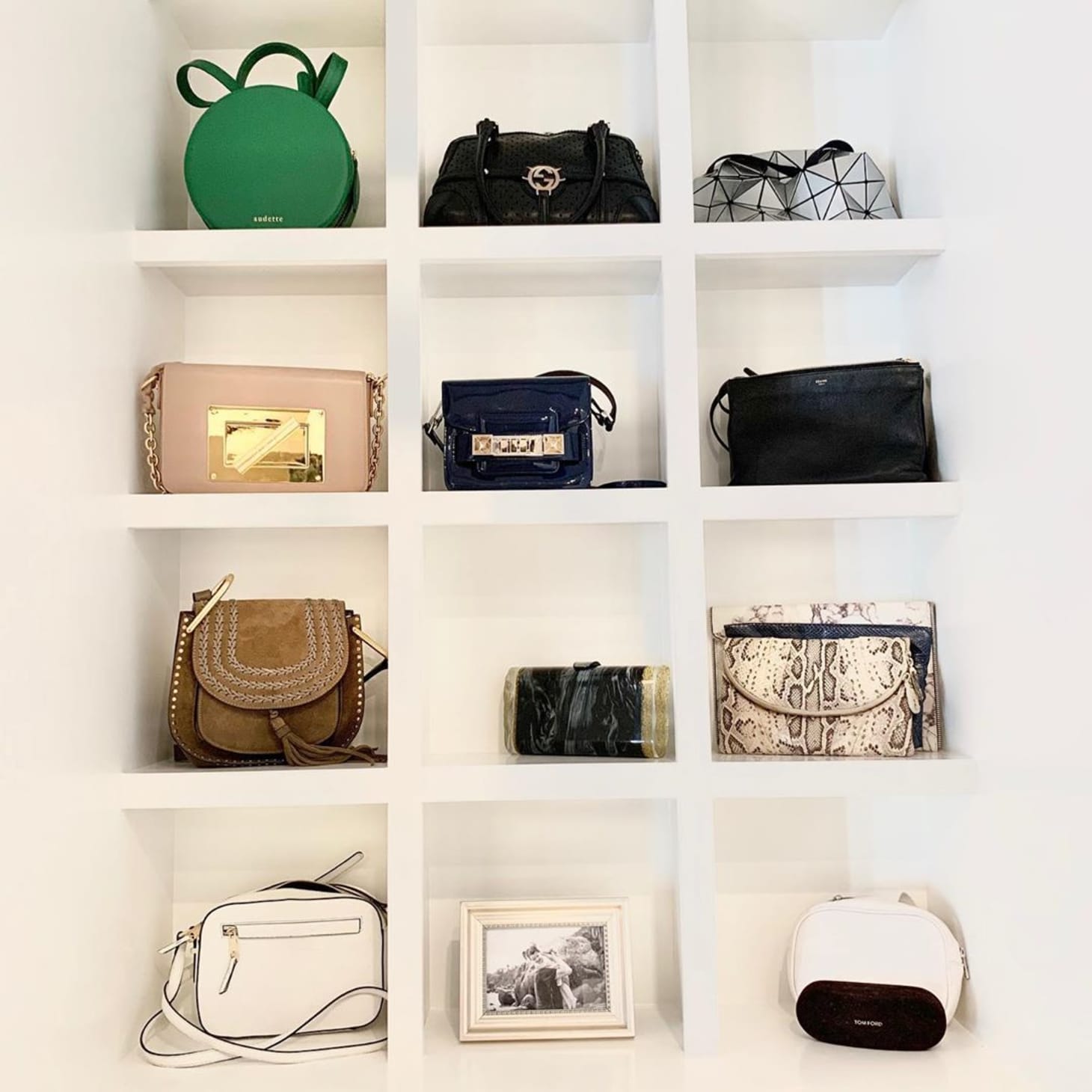 Stacey and Ashlee of The Go 2 Girls LA shot this creative organization grid that also serves as a statement wall. If you want to bring attention to your handbags, this is a fantastic way that also challenges you to trim them down and be thoughtful with your collection.
12. Use Wire Baskets to Create Purse Storage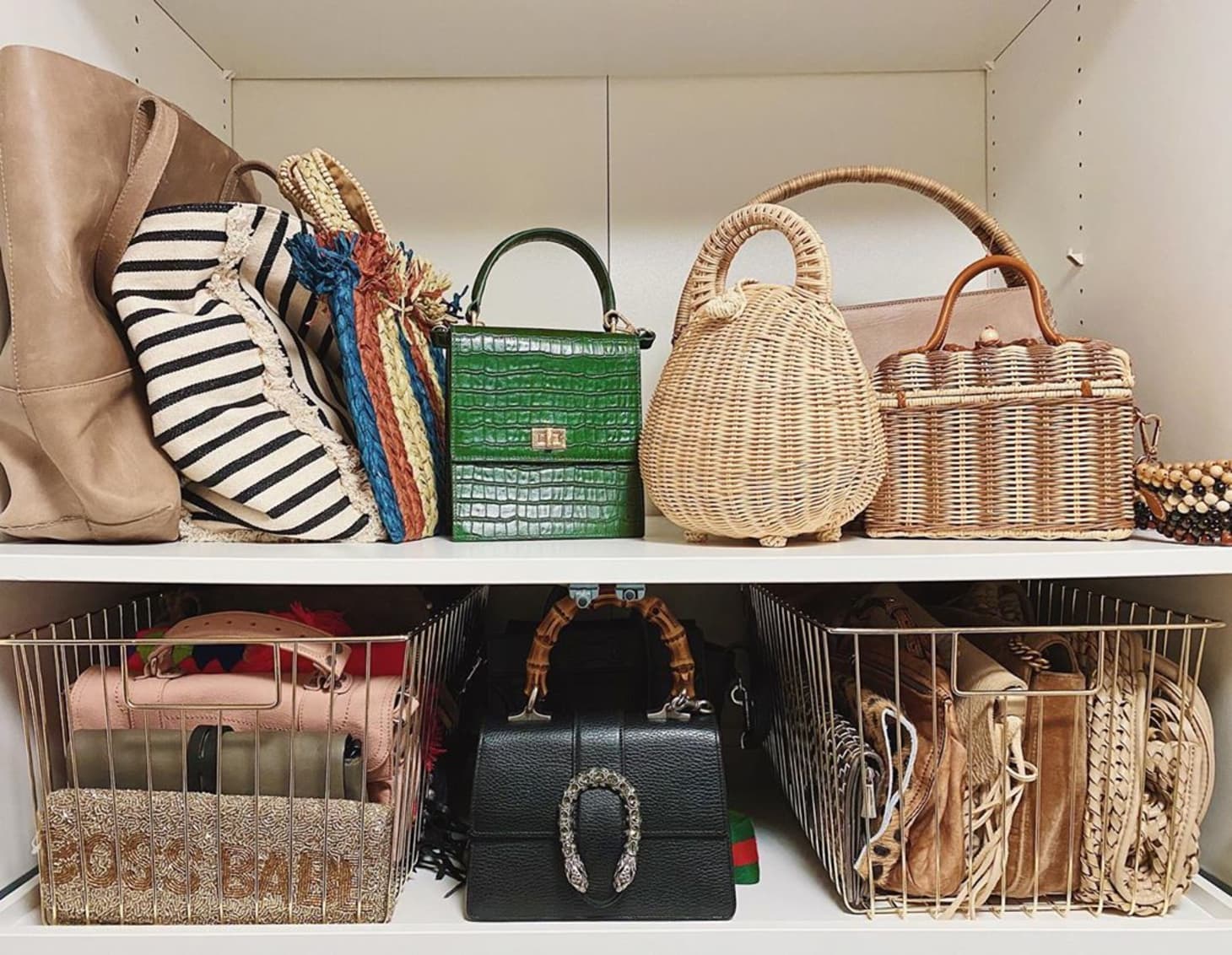 Wire baskets are a stylish way to keep items contained. Place smaller clutches and wallets in these and use the extra space for other handbags, as seen in this photo by Lisa Jacobs of Imagine It Done. She suggests displaying your purses rather than hiding them away. "Remove those dust bags and put your favorite handbags on show." "Stuff with silky inserts like Fabrinique's and separate with acrylic shelf dividers," she suggests.
13. Find Alternative Storage Locations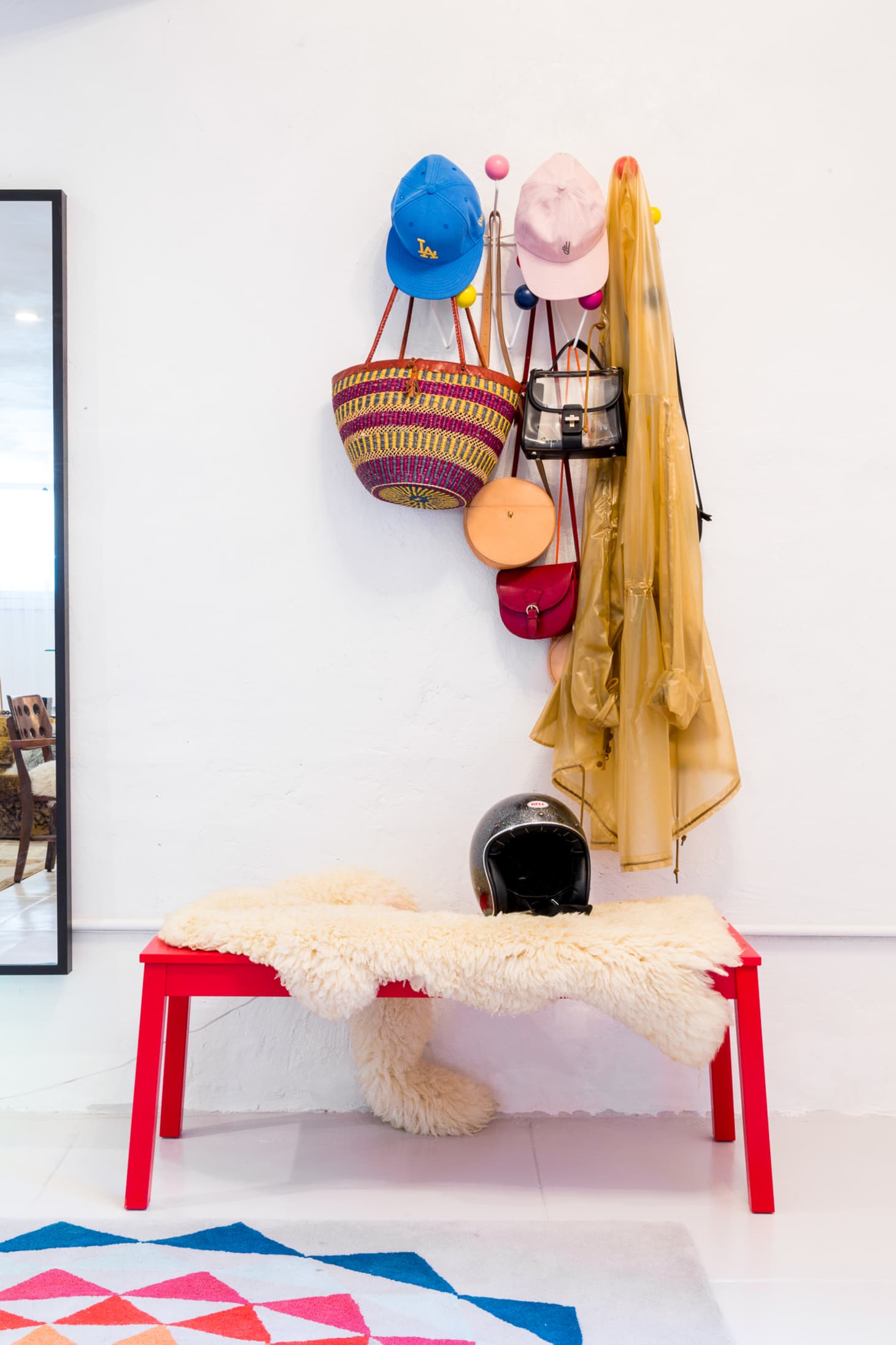 Closets aren't the only places where you can keep your purse. Mudrooms or front entryways, such as those found in this eclectic home, provide a fresh and appealing choice for storing a few purses.
14. Style Pull-Out Linen Drawers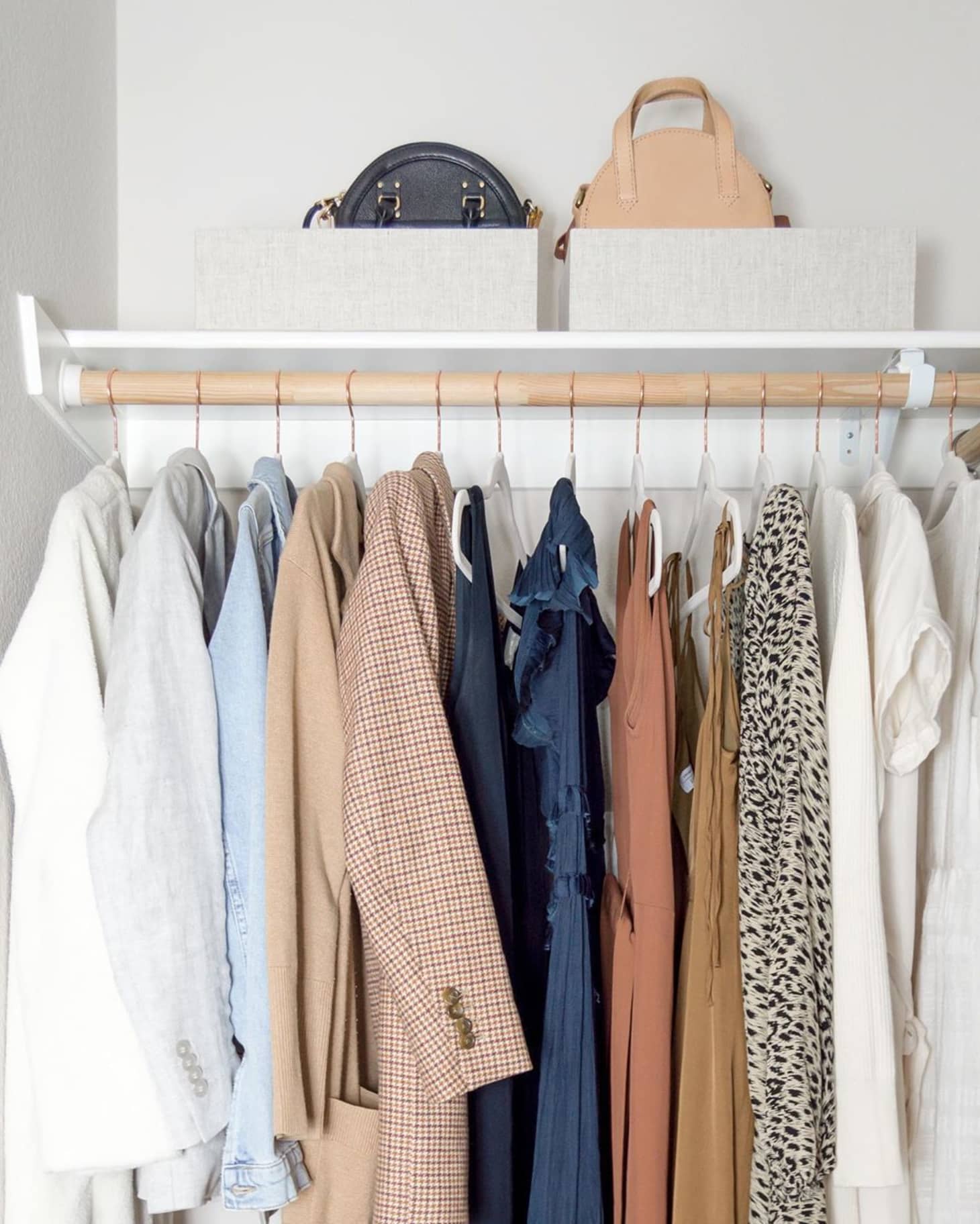 Holly from Breathing Room Organization used soft linen baskets above for an almost hidden kind of storage. It's enough to keep things up and out of the way, but noticeable enough that you don't forget where you put them.
15. Stack Purses Creatively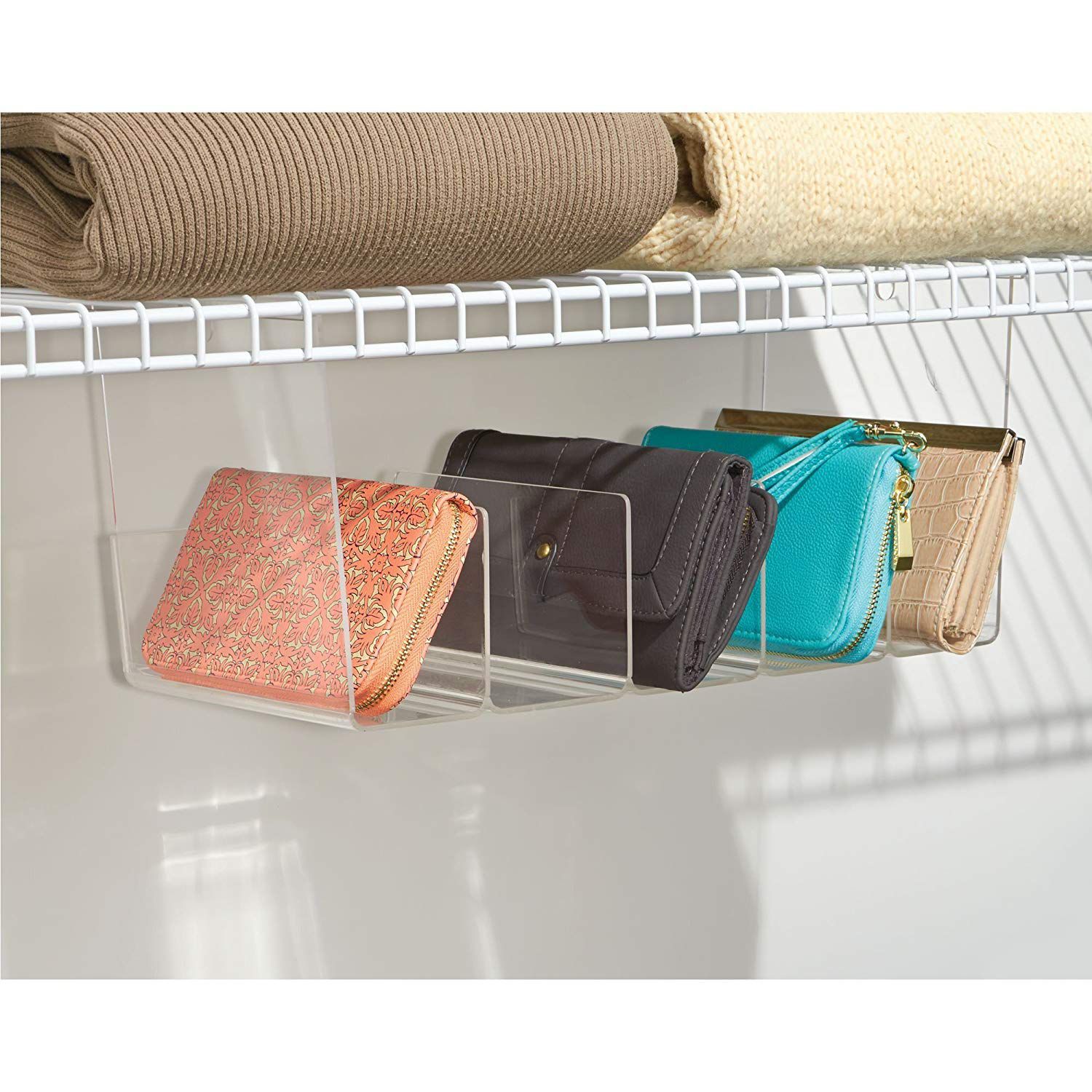 If you have a nice collection of purses, grouping them together may appear more artistic than cluttered. Consider this example and see if you can elegantly reorganize your purses to keep them all in one location without appearing rigid or monotonous.
16. Make Use of Overlooked Spaces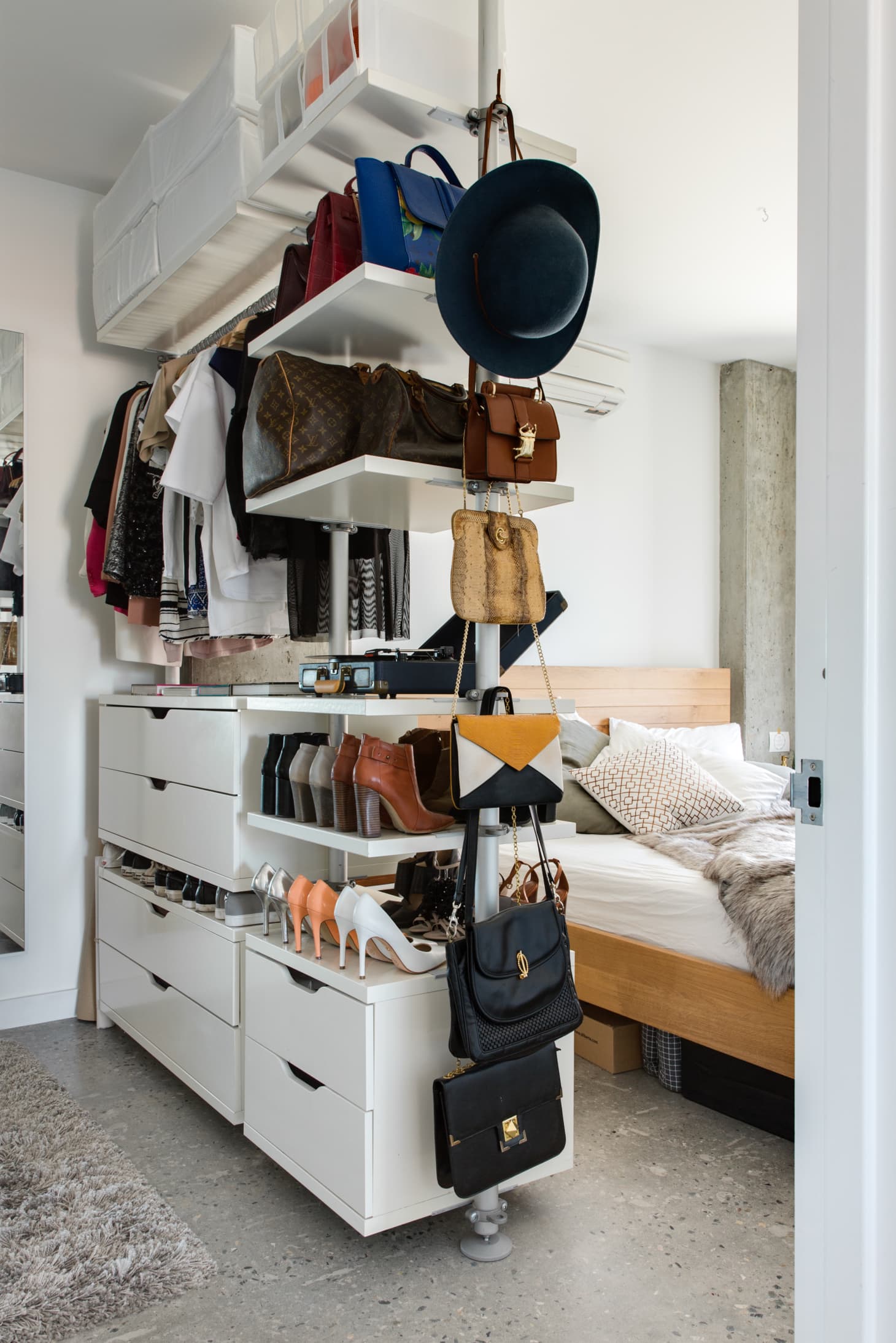 A closet or storage unit's side is a cunning and ingenious technique to provide more storage in a compact space. Hooks were utilized by the residents of this tiny Brooklyn apartment to arrange purses all the way down the side of their closet unit.
17. Utilize Hooks and Shoe Racks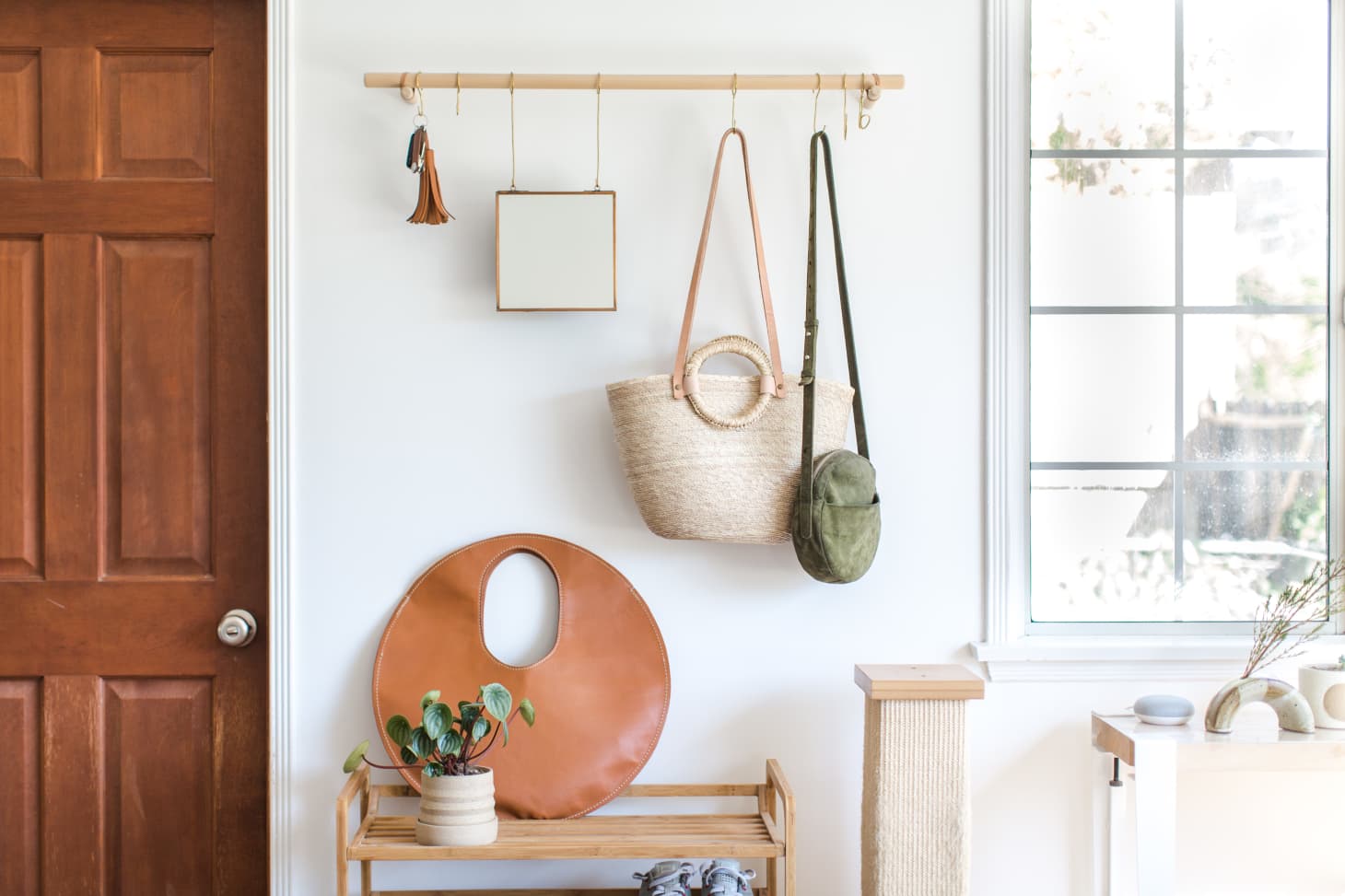 Placing your most beautiful purses makes a statement and gives you your best alternatives before you rush out the door. Similar to this sophisticated Los Angeles home, you can experiment with different storage options and levels to achieve the style and form of organization you like.
18. Store Handbags With Magazine Holders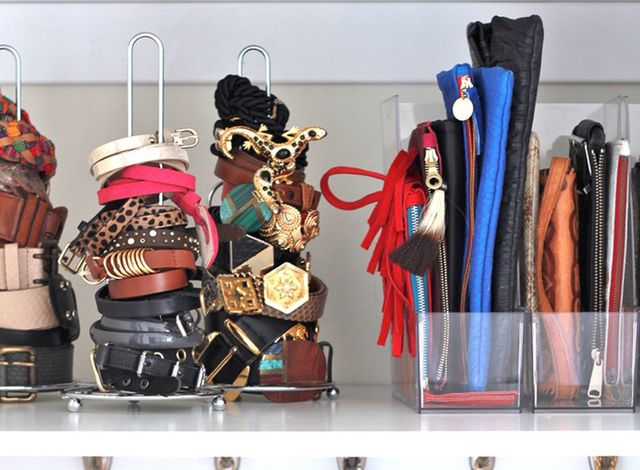 Holders meant for other things can also be used for handbags. Slim bags, for example, that won't sag can fit inside magazine holders. File folders and hat boxes are two other sorts of organizers that may accommodate handbags. Of course, you can always store small bags inside larger ones to keep them safe and together.
19. Utilize Shower Curtain Rings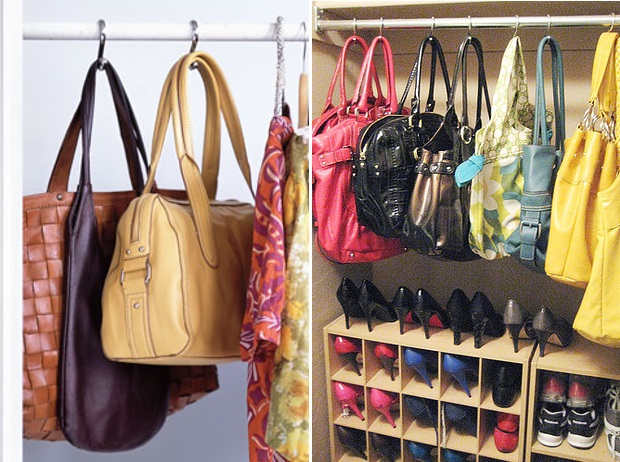 Shower curtain rings are a cheap and simple way to store handbags. Simply hang the bag straps from the rings that have been attached to a closet rod. Hanging bags from their handles usually forces them sideways, allowing you to line up their narrowest areas to conserve room. This technique, however, is not recommended for heavier bags because it can exert too much long-term stress on the straps and wear them out.
20. Use Bookcases to Store Purses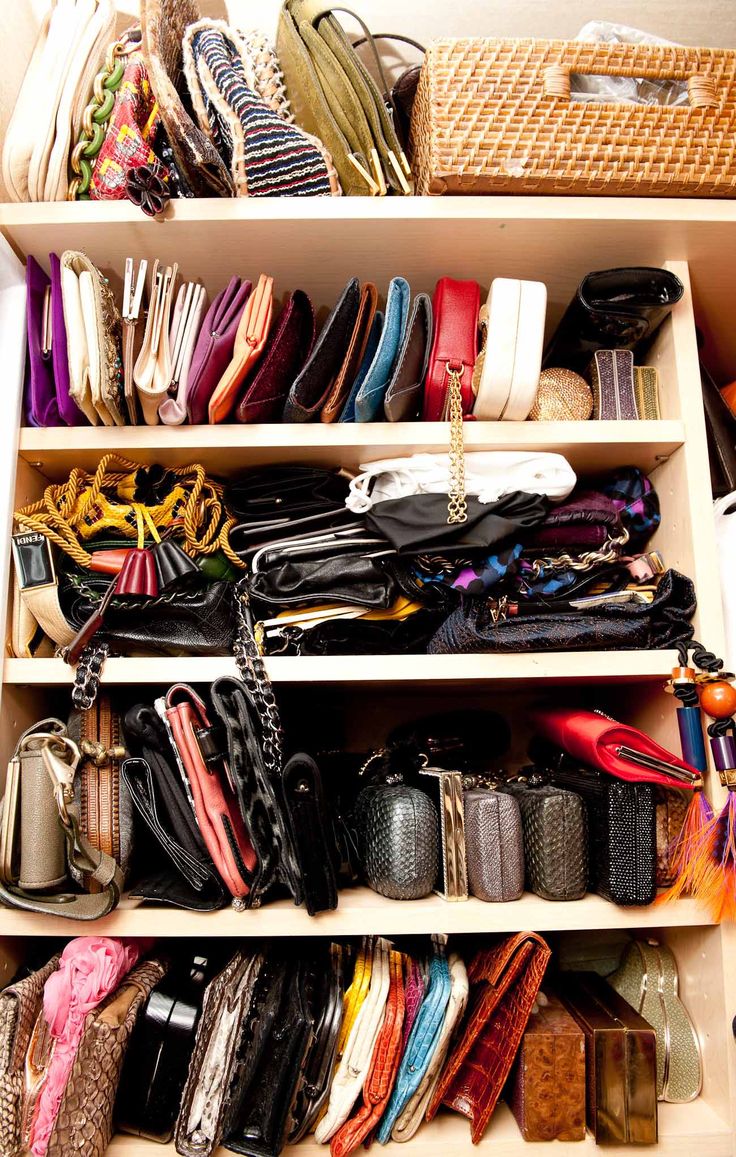 If you don't want to construct wall shelving, handbags can be stored in a bookcase. If you don't have a built-in shelf in your closet for your luggage, this storage solution is a wonderful option, and there are numerous bookcase sizes to match your needs. Shelf dividers can be used to keep your purses upright. Alternatively, you may just stuff them with tissue paper to provide stability.
21. Create a Pegboard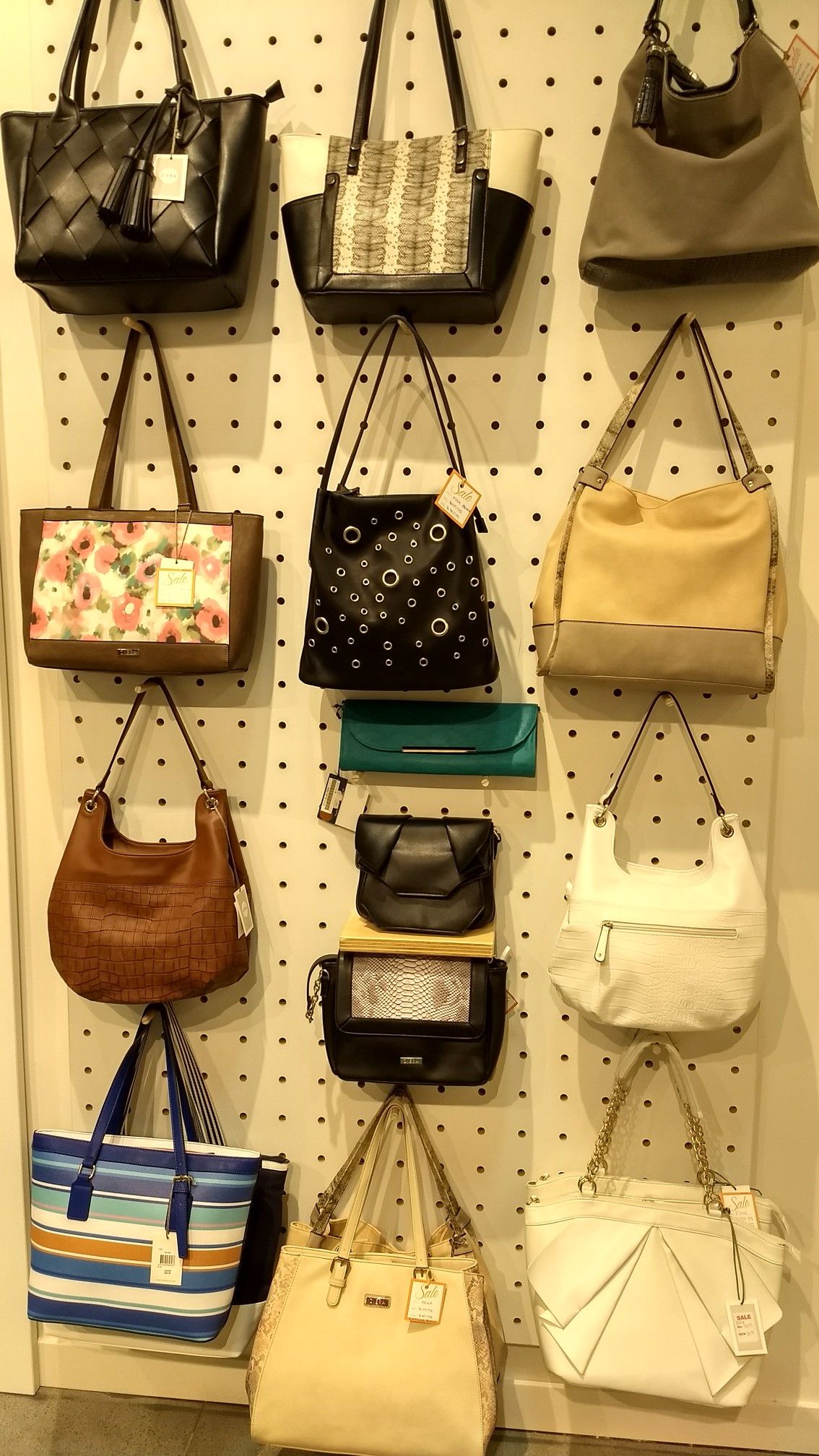 This handbag display option is ideal if you have a lot of free wall space in your walk-in closet or another room of your home that you use for accessory storage. All of the materials required to make your own pegboard handbag storage system are available at your local hardware shop. A pegboard, pegboard hooks, and a drill will be required. While this DIY idea isn't for everyone and isn't the most stylish display, it is simple and inexpensive. After you've cleared your chosen space, hang your pegboard on the wall and arrange the pegboard hooks any way you want. The advantage of this system is that the hooks can be repositioned at any time. After that, hang your handbags from the hooks to keep your collection organized. Wristlets, scarves, belts, and jewelry can also be hung on the pegboard system.
22. Leverage Stackable Purse Organizers for Clutches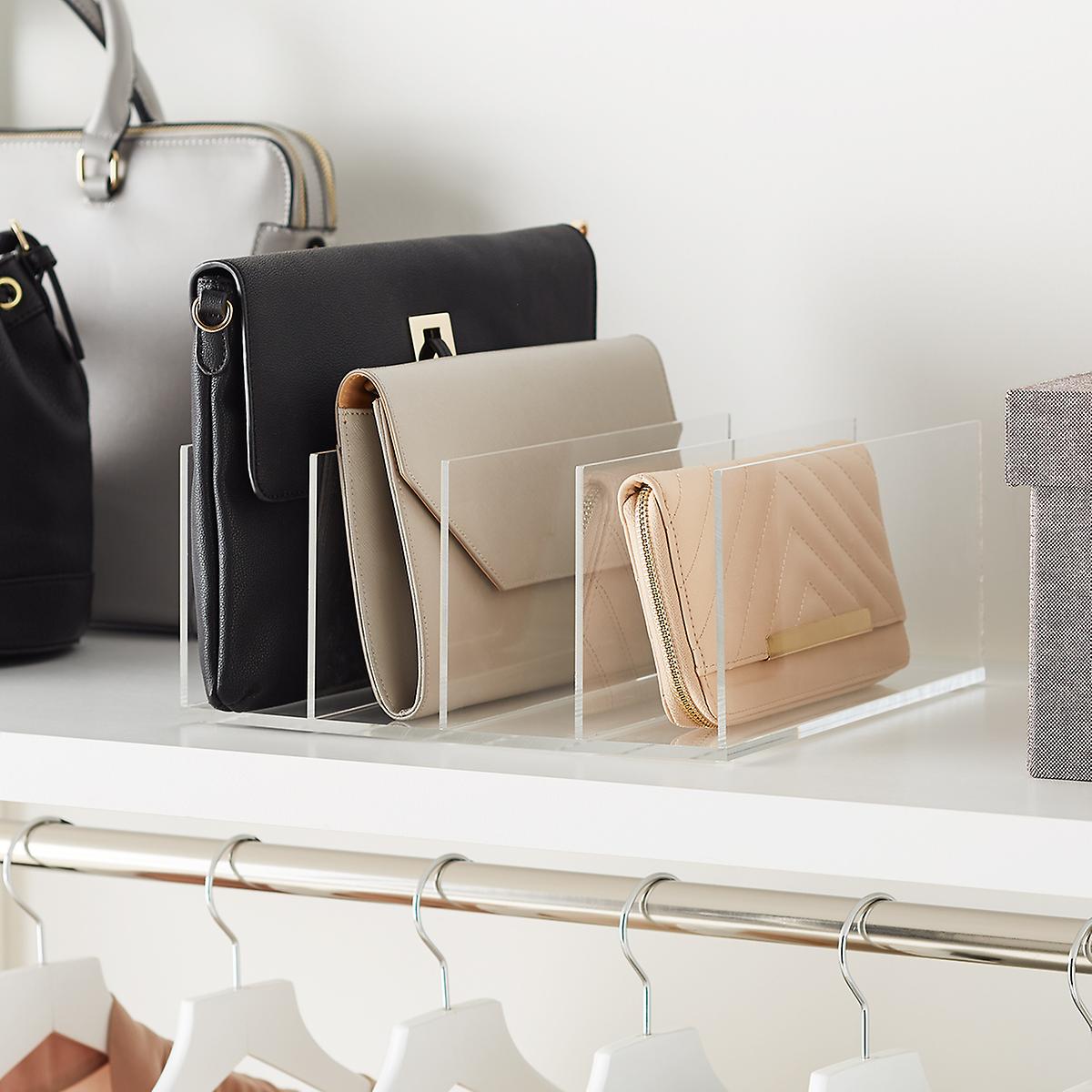 If you have a lot of clutches or wallets that you need to arrange and store, this metal stacking purse organizer could be a fantastic answer.
One of these organizers has 5 storage slots and can be utilized on a closet shelf, a dresser top, or within a dresser drawer.
23. Clean Your Purse Before Storing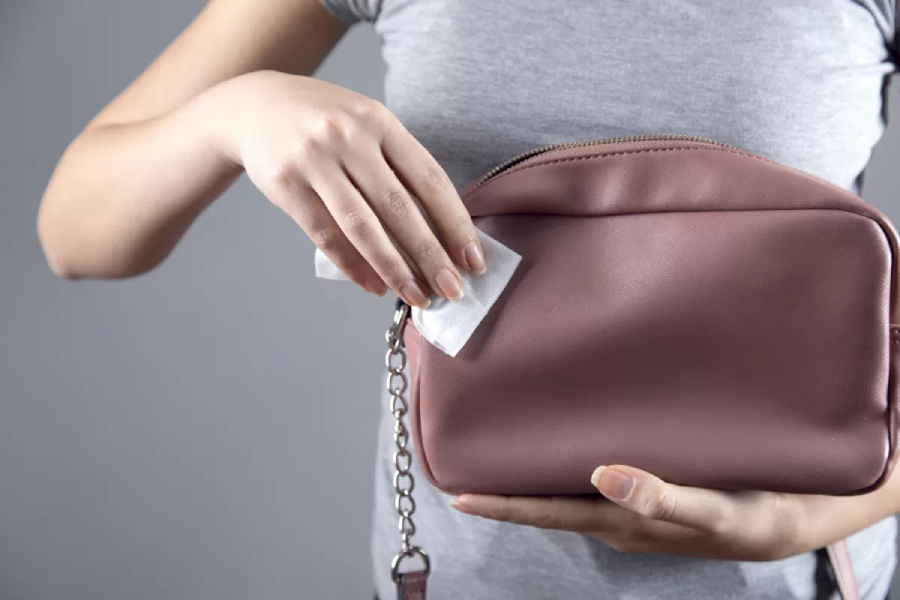 It's pointless to take care when storing your handbag if it's unclean or stained. Using your handbags alone generates filth, oils, and dirt. You must remove these before storing your purse. Some experts advise using baby wipes that are free of alcohol and smell. If you're concerned, simply go over your luggage with a damp soft towel to remove any collected grime. To ensure good storage of your handbag, don't forget to clean the interior of your bag.
A dry, soft cloth is ideal for cleaning a leather bag. Water can discolor leather, thus this is especially crucial for untreated or natural leather bags. Although most leather bags will recover from water stains, there's no reason to put your handbag at risk. If you wish, you can use a commercial leather cleaning solution. Just make sure the handbag is completely dry before storing it.
24. Stuff Your Purses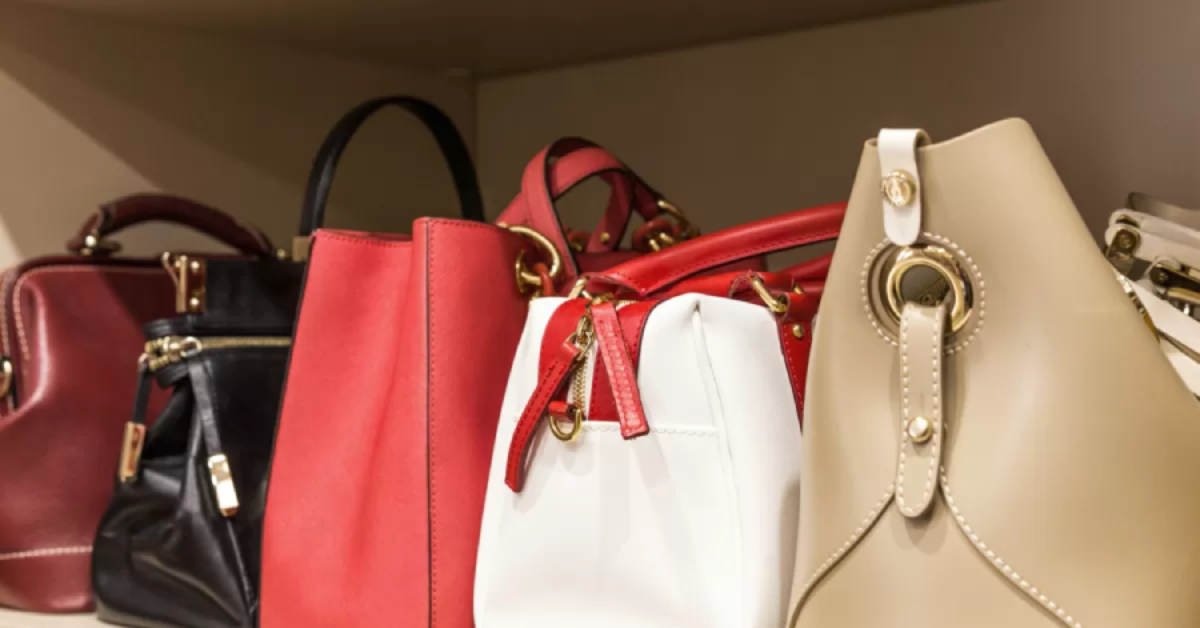 The vast majority of handbags are not intended to be folded. Most handbags should be stored by re-stuffing them in the same manner in which they were purchased. The simplest approach to stuff a handbag is to keep the original stuffing that came with it. Fabric remnants and acid-free paper towels/tissue paper can be used. You should never pack your handbag with the newspaper since the ink can readily transfer onto the purse lining. Stuffed purses should be stored flat on a shelf or a flat surface. Avoid using bubble wrap to stuff your purse since the bulk of the bubble wrap limits air circulation and can create conditions for mold and mildew, especially if you live in a humid climate.
Purse pillows or purse pillow inserts can also be used. Purse pillows and pillow inserts are intended to offer structure by providing firmness. Simply place a purse pillow insert inside your purse while not in use. Wrap the hardware with acid-free tissue paper, being sure to cover any exposed hardware as zip pulls, strap hooks, and buckles. Wrapping hardware reduces the possibility of leaving imprints on the purse.
25. Schedule a Three-Month Checkup
Every three months, you should perform a short inspection of your purses. You can take them out of the dust covers and inspect them for mold, mildew, cracking, and other symptoms of degradation. If you aren't utilizing dust covers, you should dust each purse. You may want to put a leather conditioner on your leather purses (allow it to dry before returning to storage).